There are quite a few benefits to owning any Weber Grill, as products crafted by this premium brand of grilling equipment carry a long history of quality and reliability, as opposed to getting something from one of its competitors.
There are immediate outright benefits of owning a grill by this company. Then, there are even further benefits of owning specific grill models from their various product lines. Let's take a look!
Benefits of Owning a Weber Grill
We carry three specific propane gas-powered Weber grill models our customers love the most.
Weber Spirit II E-310 Propane Gas Grill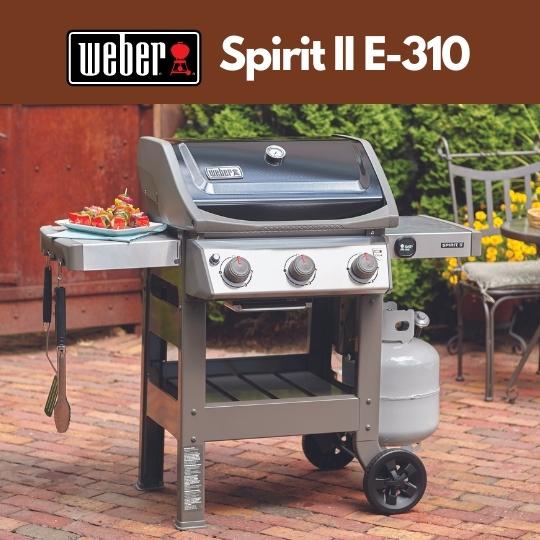 An excellent option if you need a large grilling surface, the Weber Spirit II E-310 propane gas grill features a large primary cooking area of 424 square inches, 105 square inches on its warming rack, and a lot of power at 30,000 BTU-per-hour input.
It can even use indirect grilling (cook on one side and still have indirect heat/keep food warm on the other side) because it has additional burners built-in.
Equipped with the Weber GS4 grilling system and a special fuel gauge reader (to quickly check how much fuel is left in your propane tank), this three-burner grill on wheels can help you cook a spectacular meal your friends and family will not forget.
---
Weber Spirit II E-210 Propane Gas Grill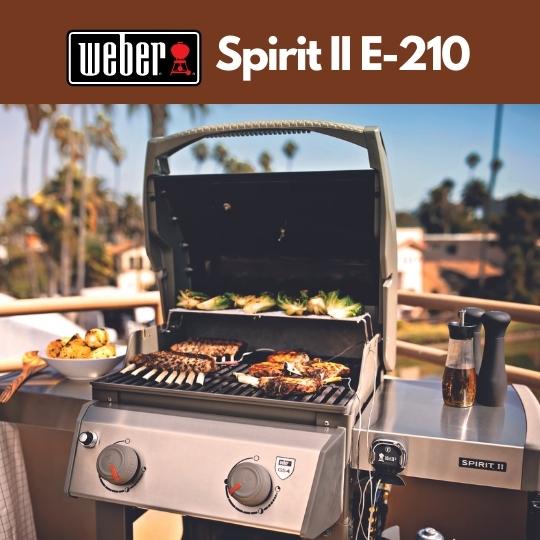 Smaller than the E-310 but based on the same reliable GS4 grilling system and other great features (like the capability to do indirect grilling), this functional two-burner Weber Spirit II E-210 propane gas grill is perfect for everyday grilling.
The side tables offer a necessary prep area, with a foldable left side to save space when not in use. Like its bigger counterpart, this grill has a warming rack area of 90 square inches in addition to its sizable primary cooking area of 360 square inches.
It also has an open cart design and wheels that make it easy to move around. At 26,500 BTU-per-hour input, this high-performance grill is reliable and great for family get-togethers and having a few friends over to enjoy some barbecue.
---
Weber Traveler Portable Propane Gas Grill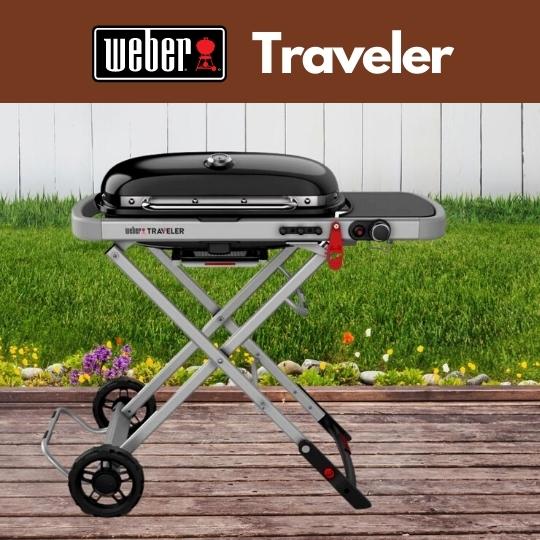 If you want the ability to grill in more places, this portable Weber Traveler propane gas grill is exactly what you have been looking for.
First off, no lugging giant propane tanks from the gas stations, this grill uses 1-pound propane fuel tanks that are readily available at any grocery store. This foldable grill is perfect for your balcony, backyard, or easily popping in the back of your car to take picnicking, camping, tailgate parties, or anywhere you want to go.
Finally, Weber didn't skimp out on the size, quality, or power just because it's portable; it flaunts a surprisingly large grilling area of 320 square inches and can sear your meats and vegetables.
---
Over 70 Years of Quality Production
In 1893, Weber Bros. Metal Works began as a company that manufactured metal products. In 1952, they built the original round charcoal kettle grill – the primary inspiration for the round grill style that we all know and love.
George Stephen Sr., one of the owners of Weber at the time, decided that he wanted something nicer than what he had been using at home. So while at the Weber shop, he put together two buoy parts, half-spheres made of sheet metal, to create a better grill. He brought it home to test it out, and his neighbors fell in love with it. It was so memorable that they even gave the grill a nickname – Sputnik. Shortly after that successful trial run, Weber started manufacturing it as George's Barbecue Kettle, and there was an instant demand.
Because the grill was such a hit, the barbecue division of Weber was formed shortly after, in 1952. That division is still producing fantastic backyard barbecue options with the same quality to this very day. Beyond the original barbecue kettle, they now sell a wide selection of electric grills, gas grills, charcoal grills, and charcoal smokers. So there's a grill to fit everyone's unique needs.
No matter which Weber grill is the right size for you, they each come with the same trustable quality. Come into our Payless, Rockery, and Nursery store and choose the right model for you.